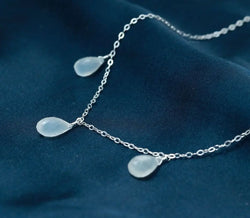 Anjoriya Jewels
White Moonstone Drop Sterling Silver Necklace
White Moonstone Drop Sterling Silver Necklace handmade Item & made by natural Moon stone pure 92.5% sterling silver . This uniquely designed White Moon Stone Silver Necklace is one of the best designs you'll ever come across. The timeless design, this White Moon Stone Drop Silver Necklace is crafted by the best craftsmen at Anjoriya jewels . Beautiful chain connected with white moon stone pear shape Drops. This makes a stunning gift for Mother's Day, birthdays, friendship days.
Benefits of Wearing white Moonstone- Balances the emotions, Shields you from negativity, Facilitates a connection with the energies of the moon. 
 The necklace comes with micron rhodium polish to prevent tarnish and add years to the necklace life.