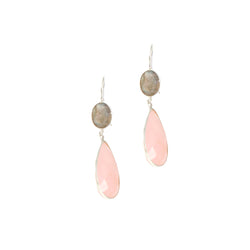 Anjoriya Jewels
Rose Quartz Labradorite Pear Drop Silver Earring
Natural pear shaped Rose Quartz Labradorite studded with gemstone in 92.5% sterling silver pear drop pattern earring. Perfect for adding an unexpected pop of color to your everyday essentials.
Rose quartz stone is known as the crystal of unconditional love &  keeping with its theme of being a heart healer.
This pair of earring comes with high quality micron rhodium polish to prevent tarnish and add on years to the life of earrings.