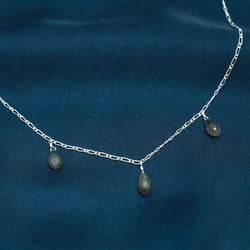 Anjoriya Jewels
Moonstone Drop Sterling Silver Necklace
Moonstone Drop Sterling Silver Necklace studded in 
18 inch silver link chains
 & made with natural Moon Stone pure 92.5% sterling silver . This uniquely designed Moon Stone Silver Necklace is one of the best designs you'll ever come across. The timeless design, this Moon Stone Silver Necklace is crafted by the best craftsmen at Anjoriya jewels . Beautiful chain connected with moon stone pear shape In Drop. 
Benefits of Wearing Moonstone
It helps to regain inner balance. Helps in self- healing.
protects travelers from accidents, thefts or any other mishap. It is a good gift for lovers to enhance passion between them. Helps in spiritual growth. 
The necklace comes with micron rhodium polish to prevent tarnish and add years to the necklace life.