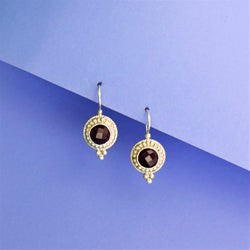 Anjoiya Jewels
Garnet Round Cut 925 Sterling Silver Earring
Garnet Round earring made by natural Garnet Round cut stone handcrafted in pure 92.5 sterling silver. The Round earrings have a minimal yet vibrant look which makes it a perfect choice to wear on my occasion.
Benefits of wearing garnet-
-Helps ignite love and passion,-Strengthens one's personal energy,-Heightens creativity and inspiration, Improves one's daily energy levels, Establishes faith and trust, Opens the heart, Builds self-esteem,-Promotes joy.