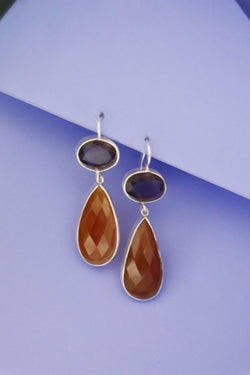 Anjoriya Jewels
Amethyst Red Onyx Pear Drop Silver Earring
Natural pear shaped Red Onyx and Amethyst gemstone in 92.5% sterling silver pear drop pattern earring. Perfect for adding an unexpected pop of color to your everyday essentials.
Red onyx stone imparts personal strength and helps you to be master of your destiny. Promotes vigor, steadfastness and stamina. helps you in learning lessons. Gives you self-confidence. try it.
This pair of earring comes with high quality micron rhodium polish to prevent tarnish and add on years to the life of earrings.