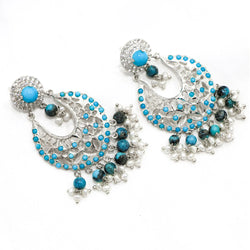 Anjoriya Jewels
92.5% Sterling Silver Turquoise Chand Bali Earrings.
Turquoise Chand Bali antique earrings Handcrafted in 92.5% sterling Silver are an instant charmer. The meticulously-crafted design of these earrings has a striking look. Wear this pair to add a degree of visual intrigue to your ensemble. 
Want to elevate your look with a dose of drama? These Turquoise Chand Bali antique earrings are the right pick. The thought-out combination of high-quality and bright-colored CZ stones with Turquoise beads gives this pair of earrings an irresistible charm. Pair these earrings with an ethnic-looking medium-sized necklace for a well-accessorized look. Turquoise is believed for its power to improve communication skills. It would stimulate and vitalize your throat chakra. This gemstone is popular as a good-luck charm to increase love luck or home luck. It is also good for people who get involved with many people at work.